Right now my one and only hobby seems to be reading.  I LOVE reading and can't get enough of it.  I follow the blog Modern Mrs. Darcy, which is a book/life blog that I enjoy reading.  Anne, the author, is very likable and has given some great recommendations since I started following her blog.  Last year she had a reading challenge that I did not participate in because I wasn't sure if I was up for trying to read stuff based on a certain criteria.  This year I decided that I would give it a try.  The image above are the categories of the books to be read.  If you would like to join the challenge go to this page for more information.
Here are the books that I will be reading (not in any particular order):
A book published this year:  The Nest by Cynthia D'Aprix Sweeney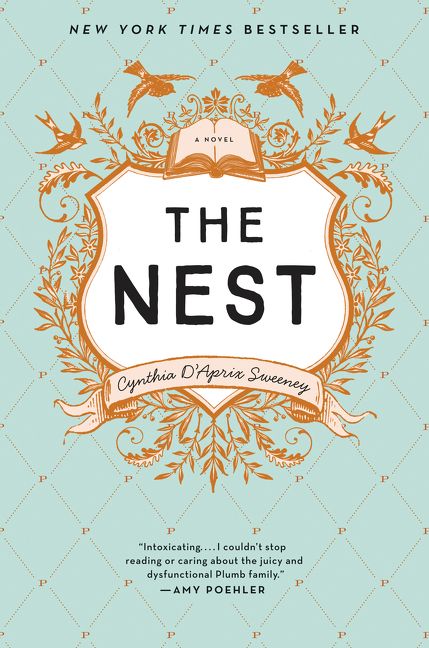 "A warm, funny and acutely perceptive debut novel about four adult siblings and the fate of the shared inheritance that has shaped their choices and their lives."
This book got some good reviews and comes out in March.  It looks like a funny and light read, which I'm always good for.
A book you can finish in a day:  Night by Elie Wiesel 
"Night is Elie Wiesel's masterpiece, a candid, horrific, and deeply poignant autobiographical account of his survival as a teenager in the Nazi death camps."
This book is on one of my lists of books that people should read and I've been meaning to read it for a few years now.  It's a short book at just 120 pages that I think I can get through in one day.
A book you've been meaning to read: Being Mortal by Atul Gawande
"Gawande, a practicing surgeon, addresses his profession's ultimate limitation, arguing that quality of life is the desired goal for patients and families. Gawande offers examples of freer, more socially fulfilling models for assisting the infirm and dependent elderly, and he explores the varieties of hospice care to demonstrate that a person's last weeks or months may be rich and dignified."
I bought this book last year because I had heard great things about it and nothing but praise.  I just hadn't gotten around to reading it.  I actually did read it in January and I'll review it later.
A book recommended by your local librarian or bookseller:  Billy Lynn's Long Halftime Walk by Ben Fountain
"A razor-sharp satire set in Texas during America's war in Iraq, it explores the gaping national disconnect between the war at home and the war abroad."
Our library has a shelf of books that the librarians have recommended and this book looked interesting and one that I hadn't heard about.  As I was looking for a picture to put in this post I see that the movie of this book is coming out at the end of this year.
A book you should have read in school:  The Scarlet Letter by Nathaniel Hawthorne
"Adulteress Hester Prynne must wear a scarlet A to mark her shame. Her lover, Arthur Dimmesdale, remains unidentified and is wracked with guilt, while her husband, Roger Chillingworth, seeks revenge."
In middle and high school I'm pretty sure that I read everything that was assigned to me, so I don't think that there is a book that I didn't read for school.  With that being said, I know that there are many books that other people read in school that I didn't.  This is one of those books and I thought that I would finally read it.
A book chosen for you by your spouse, partner, sibling, child, or BFF:  Seveneves by Neal Stephenson
"A catastrophic event renders the earth a ticking time bomb. In a feverish race against the inevitable, nations around the globe band together to devise an ambitious plan to ensure the survival of humanity far beyond our atmosphere, in outer space."
My husband is a fan of Neal Stephenson's work and good sci-fi novels.  This book came out last year and my husband enjoyed it thoroughly.  This book was also on many best of 2015 lists.
A book published before you were born:  The Count of Monte Cristo by Alexandre Dumas
"Thrown in prison for a crime he has not committed, Edmond Dantes is confined to the grim fortress of If. There he learns of a great hoard of treasure hidden on the Isle of Monte Cristo and he becomes determined not only to escape, but also to unearth the treasure and use it to plot the destruction of the three men responsible for his incarceration."
This book was definitely written before I was born (1844)!  It's been on my to read list, but I haven't been that interested in reading it.  At the end of last year a couple of blogs that I follow wrote how they read this book and really enjoyed it, which piqued my interest and made me think that I should read this (I enjoyed the movie that came out in 2002).
A book that was banned at some point:  In Cold Blood by Truman Capote
"On November 15, 1959, in the small town of Holcomb, Kansas, four members of the Clutter family were savagely murdered by blasts from a shotgun held a few inches from their faces. There was no apparent motive for the crime, and there were almost no clues.  As Truman Capote reconstructs the murder and the investigation that led to the capture, trial, and execution of the killers, he generates both mesmerizing suspense and astonishing empathy."
I think that most everyone has heard of this book and it is one of those that is on the must read lists.  When I Googled banned books I saw that this one was on the list.  Since I have been meaning to read this book I figured that this one would fit nicely in this category.
A book you previously abandoned:  The Princess Bride by William Goldman
"Rich in character and satire, the novel is set in 1941 and framed cleverly as an "abridged" retelling of a centuries-old tale set in the fabled country of Florin that's home to "Beasts of all natures and descriptions. Pain. Death. Brave men. Coward men. Strongest men. Chases. Escapes. Lies. Truths. Passions."
For this category I thought that it would be very hard because I am a person that tends to finish books even if I am not into them.  I only abandon books that are so terrible to me and there would be no way that I would pick them up again.  Then I remembered that last year I had started reading The Princess Bride  to my boys, but at some point my husband took over on bed duties and I never finished this book.  This year I will finish it.
A book you own but have never read:  And Then There Were None by Agatha Christie
"One of the most famous and beloved mysteries from The Queen of Suspense—Agatha Christie"
I've never read Agatha Christie, but I've heard that her books are good and they have been recommended many times.  This book is perhaps her most well known book and I bought it a couple of years ago, but I just haven't gotten around to reading it.
A book that intimidates you:  Team of Rivals by Doris Kearns Goodwin
"Acclaimed historian Doris Kearns Goodwin illuminates Lincoln's political genius in this highly original work, as the one-term congressman and prairie lawyer rises from obscurity to prevail over three gifted rivals of national reputation to become president."
I got this book last year when it was on sale for the Kindle.  I had heard great things about it and the majority of ratings on Amazon and Goodreads are excellent.  It intimidates me because the book is 944 pages.  It should be the longest book I read this year.
A book you've already read at least once:  A Prayer for Owen Meany by John Irving
"In the summer of 1953, two eleven-year-old boys—best friends—are playing in a Little League baseball game in Gravesend, New Hampshire. One of the boys hits a foul ball that kills the other boy's mother. The boy who hits the ball doesn't believe in accidents; Owen Meany believes he is God's instrument. What happens to Owen after that 1953 foul ball is extraordinary."
John Irving is my favorite author and I love his writing.  I read this book many years ago and I want to revisit it because so many people would list this book as their favorite of his and for me it isn't, although I did enjoy it.  Maybe reading it now after many years I will enjoy it more?
Phew, those are the books that I am going to try and get through this year.  I have one down and 11 more to go!
Happy Reading!
Heather
p.s. All of the links above are affiliate links, which gives me a small percentage if you buy through them and this all goes back to buying homeschooling stuff 🙂